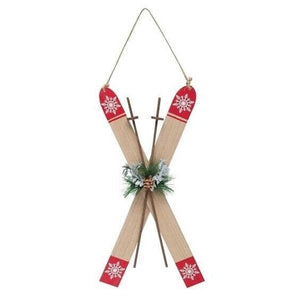 Here is an adorable mini Ski and Pole set. This is a great gift for the Ski enthusiast on your list. There is acute accent of a pine bow and tiny pine cone in the center which adds extra charm. These do have a twine rope hanger for placing on a tree. These could also be used to adorn a wreath, or placed into a centerpiece. These are lightweight and could easily be hung in a window with a suction cup.
 Approximate Dimensions: 7.5" wide x 14" long
 When you buy from a small business, an actual ( Me) person does the happy dance.