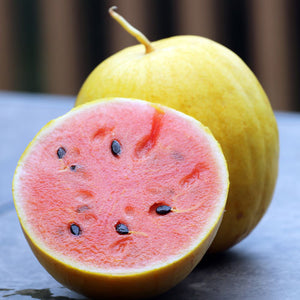 An outstanding little watermelon, with golden-yellow rind and salmon pink flesh. Pleasantly sweet, about 3 pounds in weight. Bred by Elwyn Meader and Albert Yaeger at UNH in 1959; a cross between New Hampshire Midget and Pumpkin Rind. Has a built-in ripeness indicator: fruits turn yellow when ready. Very early variety, ripening in just 70 days.
Fruits grow to 3 pounds
Salmon-pink flesh, golden yellow rind
Fruits turn yellow when ready to harvest
Good for short seasons
Ripens in 70 days
This variety will grow well in most regions of the United States.
Packet of 25 seeds