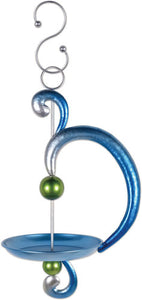 This elegantly curved metal hanger with built-in perching space so your birds can comfortably enjoy their treats.

 Bluebirds, finches and other birds can comfortably perch on the elegantly curved hanger that's made from a durable metal. A beautiful blue dish is the perfect size to hold mealworms, jelly, suet chunks, and seeds, adding a splash of color to your yard.
Size: 10.23 X 8 X 19.2
Each is a unique work of art and will vary slightly.  Perfectly imperfect   We have the largest selection of Eclectic Garden gifts. 

When you make a purchase from a small business someone (ME) does a happy dance 
Makes a great gift

PLEASE NOTE: To help retain the original finish of this product, we recommend periodic application of a sealer such as clear Polyurethane if it will be left outside.