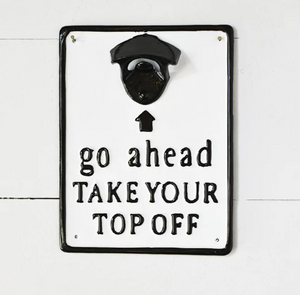 This great rustic look bottle opener will look great in you cabin or man cave.  Tin  4 holes for hanging.  Go Ahead, Take your top off.

Unique home décor
Easy install
Fun and charming
Perfect for home or business

Care Instructions: Spot Clean Only

Size: 6.45 X 1.0 X 4.95
 Each is a unique work of art and will vary slightly. Perfectly imperfect We have the largest selection of Eclectic Garden gifts.

When you make a purchase from a small business someone (ME) does a happy dance

Makes a great gift

PLEASE NOTE: To help retain the original finish of this product, we recommend periodic application of a sealer such as clear Polyurethane if it will be left outside.