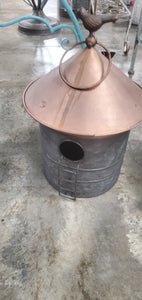 This is a darling little hanging metal birdhouse. The copper top is a great accent! Even the little ladder heading to the hole is adorable! As well as being functional for the birds to perch on. There is no hole on the bottom for cleaning. The opening would be the hole used to clean the birdhouse.


Measurements are approximate at:  12" tall  x 8" at widest rim of the roof.
The opening measures at 1.5" diameter.