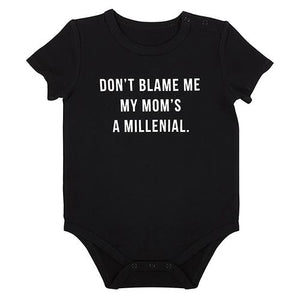 Say it with attitude and style, baby! From our That's All collection comes this soft black  snap onsie.  features the phrase 'Don't Blame Me, My Mom's A Millenial'. Perfect gift for a baby shower.  
Material: 95% Cotton 5% Spandex
 Size: 6-12 months
Care Instructions: Machine Wash Cold. Tumble Dry Low.