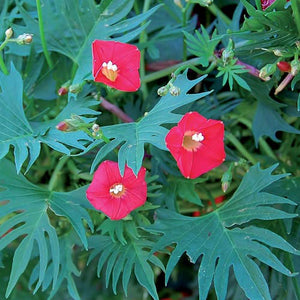 The bright cardinal-red flowers of this vine bloom from early summer until frost and are handsomely contrasted by finely cut emerald-green leaves. While this climber is loved by gardeners, it is also irresistible to hummingbirds and has been cultivated since the 1800s. The vigorous vines will climb 10-15' if given room on trellises and arbors and are well-suited to being grown in containers. Half-hardy annual.

 Check out all the other vegetable and flower seeds available for sale online.
Half-hardy annual plants
Bright red blooms and emerald foliage
Vines will grow to 10-15 feet on trellises or arbors
Will grow in containers
Irresistible to hummingbirds
Please note: The Arizona Department of Agriculture prohibits the sale of any plant in the genus of Ipomoea, which includes Cardinal Climber flower.

Packet of 100 seeds