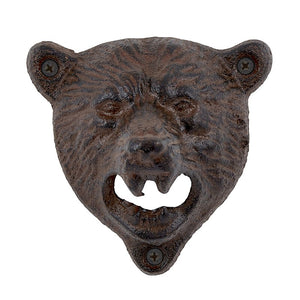 This great rustic bear head will look great in you cabin or man cave.  Cast Iron Bear Beer Bottle Opener.  There is is a hole in each ear for mounting. The mouth is open and the bottle catches on the teeth to open the bottle.

Unique home décor
Easy install
Fun and charming
Perfect for home or business

Care Instructions: Spot Clean Only

Size: 3.77"W x 2.75"H x 1.37"D
 Each is a unique work of art and will vary slightly. Perfectly imperfect We have the largest selection of Eclectic Garden gifts.

When you make a purchase from a small business someone (ME) does a happy dance

Makes a great gift

PLEASE NOTE: To help retain the original finish of this product, we recommend periodic application of a sealer such as clear Polyurethane if it will be left outside.