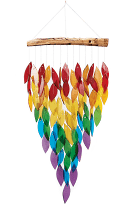 Extra Large waterfall of rainbow color in this unique glass mobile.  Inspired by the love of nature these unique glass wind chimes are carefully handcrafted by skilled artisans in Balinese villages making each piece an original.
Approximate Dimensions: Hanging Length = 31"
Wood and chimes itself is 11" wide x 24" long
Handcrafted Wind Chime of Sandblasted Glass and Driftwood. Chimes make a gentle sound when the wind blows. A great addition to garden or entryway.