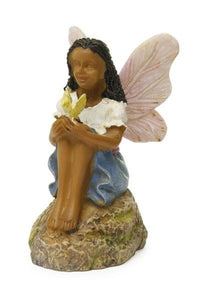 Here is an adorable ebony fairy girl enjoying the company of her little bird friend. She sits upon a rock while her little bird friend sits calmly in her hands. When sitting in the forest, you never know who is going to stop by to visit.
We add new fairy garden items daily
Dimensions (approximately): 3.5" tall
 Can be used for indoor or outdoor displays. Perfect for outdoor display in a fairy garden or your landscaping. We can help you create your own fairy garden.
 Ships FAST in protective packaging
 When you make a purchase from a small business someone (ME) does a happy dance
 Makes a great gift. We have the largest selection of Eclectic Garden gifts.