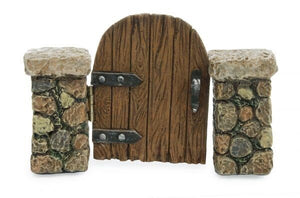 Cute wooden gate with stone walls. Perfect for your fairy garden or for a doll house. Measurements are.... roughly 4.5" wide all together and 2.75" tall. the door is 2" wide with metal hinge to open and close the door.
Two piece set. the stone walls have a metal stake in the bottom to secure them in the ground so they do not tip over.
They are 2" tall...not including the metal stake. 1" wide..
Can be used for indoor or outdoor displays. Perfect for outdoor display in a fairy garden or your landscaping. We can help you create your own fairy garden.
Ships FAST in protective packaging
When you make a purchase from a small business someone (ME) does a happy dance
Makes a great gift. We have the largest selection of Eclectic Garden gifts.