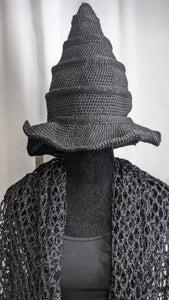 Here is a Halloween Witch's all black inspired hat. There is a wire inside the brim of the hat so it can keep it's shape and not get droopy.
All eyes will be on you when you wear this unique charming hat. It is a hand knit character designed winter hat. High quality craftsmanship is the first thing you notice, then the soft texture. This is a warm and thick winter hat with ear flaps to help you keep warm.

Unisex design.

When you make a purchase from a small business someone (ME) does a happy dance

Makes a great gift.