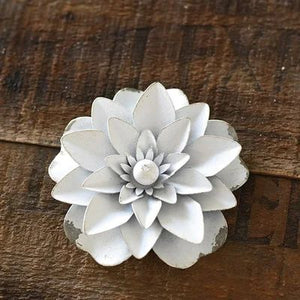 How adorable are these easy to care for flowers? Metal flower magnets with a lot of amazing detail. vintage inspire metal art. 3.25" round metal flower with 5 layers of pedals. Small magnet on the back side. Painted a rustic flat white.
These magnets would look best in groups to make your own little bouquet.  Use them to hang handy notes or pictures on your fridge. Then when not in use, group them back into your own little bouquet. 
Each sold separately.
Dimensions: 3.15 X 3.15 X 0.75