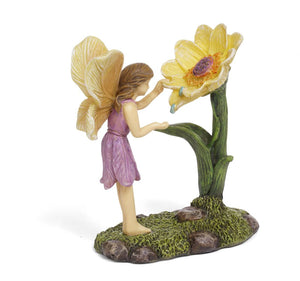 Fairy in a pink dress is collecting the dew off a giant flower for the village.  She taking it back to Fairy House to share with the other girl fairies and boy fairies.  
When you buy from a small business, an actual person does a happy dance! 
Note: Moss, landscaping, and faux water not included.


Dimensions (approximately): 3 1/2" H x 1 3/4" W x 2 3/4" D

Can be used for indoor or outdoor displays.

Check our store out for other Fairy Garden Figurines - Daily