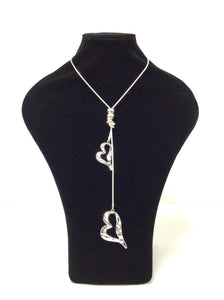 The beauty of a lariat style necklace is that it is adjustable and flexible! This shiny silver-tone necklace features two sizes of stylized open hearts at each end of the substantial lariat snake chain. There are two floating shiny metal beads that float on the chain and keep it from slipping off from around your neck. The necklace has a lobster claw clasp and an additional 3" of chain for added length. 
Lead-free

18" long necklace

Open heart pendants are: 1.75"Wx2.5"L Large open heart
                                            1.25"Wx1.75"L Small open heart

All measurements are approximate

When you purchase from a small business someone (me) does a happy dance! Thank you for your business.

This will be shipped FedEx Ground if you have a PO Box please include your street address.