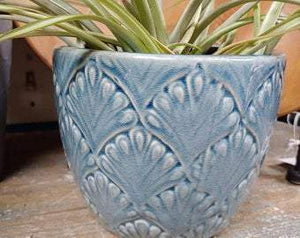 This ceramic planter is the perfect new home for your house plants or succulents.
Boho Chic design flower pot with fan texture.  Drainage hole with plastic plug.
Dimensions:  5.5" X 6.25" Perfect for a succulent or cactus

Ceramic planter has a drainage hole. There are slight imperfections due to each being hand glazed.

Plants are not included, empty pot only
Check out our large collection of indoor planters for sale online today!

Largest Selection of ECLECTIC garden gifts !  When you buy from a small business, an actual person does a happy dance!!