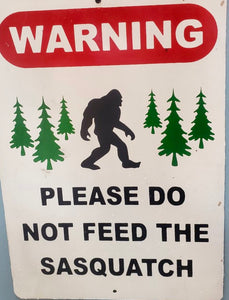 You can hang this outside for guests Or unwanted guests are warned about big foot.  He may eat you!  Please don't feed him.  We carry a large assortment of Sasquatch item at our store.
White metal sign with red banner and reads Warning in white lettering. Please do not feed the sasquatch with a picture of big foot and 6 evergreen pine trees.
We also have 11' - 5' metal cut out statues of big foot at our store in Baraboo, WI.
measurements
Each is a unique work of art and will vary slightly.  Perfectly imperfect   We have the largest selection of Eclectic Garden gifts. 
When you make a purchase from a small business someone (ME) does a happy dance 
Makes a great gift

PLEASE NOTE: To help retain the original finish of this product, we recommend periodic application of a sealer such as clear Polyurethane if it will be left outside.