Our Story
Red Shed Baraboo offers UNIQUE garden sculptures, wind spinners, air plants, succulents, annuals, perennials, benches, trellises, and more as the MIDWEST'S largest collection of outdoor décor! We are considered QUITE POSSIBLY the COOLEST STORE EVER!
Red Shed Garden and Gifts began when Michelle Glaser, helped a friend design a perennial garden in 2016. At the time, Michelle remarked on how well the space could serve as a garden center. After suffering the loss of her home to a fire for the second time in 18 months, Michelle was not sure if she could afford to take on a new project, but felt it was meant to be. Michelle put a plan into action and soon she was in Atlanta buying merchandise for her new business venture, Red Shed Garden and Gifts.
As the garden decor store has grown, so has the need for more space. Our new space has more square footage, space to hold more classes, and room to offer more unique and unusual items for YOU!
Today, the store is located at 1139 8th Street, in Baraboo WI.
Stop in and see what all the buzz is about!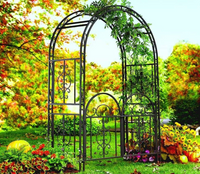 Arbors, Gazebo's Bridges and More
We have so much cool stuff, we couldn't possibly put it all online. We would love to show you around our amazing outdoor space. We specialize in spectacular garden decor. So please, stop by our store and see what all the fuss is about!
Location
Visit Us
1139 8th St, Baraboo, WI 53913
Monday 9:00 AM - 7:00 PM
Tuesday 9:00 AM - 7:00 PM
Wednesday 9:00 AM - 7:00 PM
Thursday 9:00 AM - 7:00 PM
Friday 9:00 AM - 7:00 PM
Saturday 9:00 AM - 7:00 PM
Sunday 10:00 AM - 5:00 PM
Or call for an appointment
Testimonials
What a great funky garden and gift shop excellent selection of plants and garden everything. Really great people working here very helpful and friendly going as far as offering there customers a cold bottle of water on the hot afternoon we were there. A great place for gardeners and lovers of gardeners.

Robert H.
I love the variety of plants and the classes I've had there. They are so much fun! All the workers there are super friendly and so helpful! This is one of my favorite places in Baraboo!

Cheryl R.
Love this shop! From out of town, we drove by and turned a round just to shop. All the cool exterior decor caught both my husband and my attention. We now make it a destination twice a year to check out their unique stock. They even special ordered something for me that I had been looking year for. Highly recommend checking it out!

Morgan S.
Ecclectic Gifts an Outdoor Garden Art for your Yard
Become inspired by our eclectic mix of garden items, a vast collection of creative home or garden decor and accessories and irresistible gifts for every occasion.  ​It doesn't matter how impossible that person is to shop for, there's always something unique to discover for yourself or gifts for others. The individuality of awesome decor and gifts makes a great lasting impression. 
​
Our inventory is forever changing and replenishing. Our garden decor collection is full of unique decorative pieces made to supplement your existing garden art. Our unique gifts and outdoor garden statuary have no problem working their way into any aesthetic garden design.  Each time you stop by and visit, something special will be found at Red Shed Garden and Gifts waiting for you! 
Large Groups
Red Shed Garden & Gifts encourages group visits to our garden decor store. Everyone - from a caravan of cars to a busload - is welcome. For many, Red Shed is a shopping spree stop on their itinerary, and these visitors prefer to shop on their own. For others, particularly plant lovers often from Garden Clubs, the freedom to explore our gardens is a rare treat.
Some groups prefer a guided tour of our campus, including time for everyone to make & take an item to take home with them. In this case, a guide is provided who offers information on succulent care as well as air plant care.
A light meal can also be provided.
Check Us Out!
See what we've been up to on Facebook!