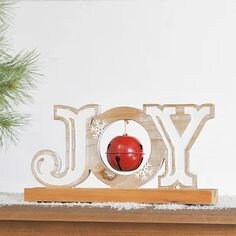 Everybody loves some extra Christmas decoration! Here is a cute wooden " JOY " sign. It's simple design could be used throughout the holidays. It has a rustic design. This sign is lightweight and could easily be placed on any shelf. This would make a perfect hostess gift to give when invited to the holiday gatherings.
Approximate Dimensions: 11" X 2.15" X 5.75"
Makes a great gift. We have the largest selection of Eclectic Garden gifts. 
When you make a purchase from a small business someone (ME) does a happy dance