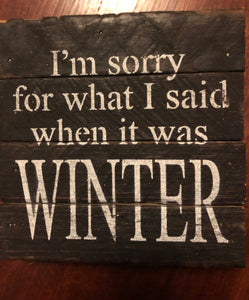 Who doesn't get crabby in the Midwest during the winter?  I know I should give this to several people I know...
Product Dimensions: 6"x 6"
Made in USA, in fact Wisconsin.
The world doesn't build things the way they used to, but Second Nature by Hand does.
These signs are made of quality, one-of-a-kind products. Plus they contain a story, a soul, a moment of history.
Working with reclaimed materials allows them to offer our customers a fleeting treasure that is only available for as long as our limited supply of raw materials lasts.
One-hundred-year-old buildings made of 18 inch timbers are hard to find and are not being replaced. We are proud to create artwork from such special, unique and finite materials.