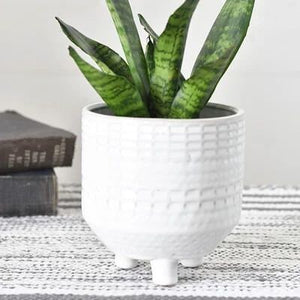 Here is a 5" White Ceramic Glazed Footed Planter with a textured design. Your plants would be the star in this simple styled planter. The creamy white color will help it no to get lost on the shelf, but it will make your plants stand out. There is no Drainage hole. Plants are not included, empty pot only.
Approximate Dimensions: 5" tall X 5" diameter X 5.30" total height with feet
There are slight imperfections due to each being hand glazed.
Makes a great gift. We have the largest selection of Eclectic Garden gifts.
When you make a purchase from a small business someone (ME) does a happy dance