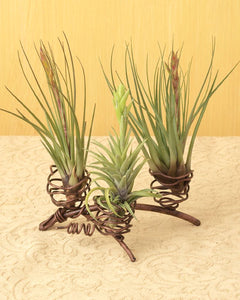 This Triple  7.5 X 6" X 3"  Air Plant Holder is sculpted of metal wire, with a free flowing shape to add interest to your space. sculptured wire design, flamed copper 
A really funky twist on displaying air plants, this coiled wire art looks as if it were plucked from a magical, whimsical forest. Handcrafted from recycled iron with antiqued copper-colored patina. Ideal for kitchen window, bedside table or desk. 
Air plants not included.
Each is a unique work of art and will vary slightly.  Perfectly imperfect   We have the largest selection of Eclectic Garden gifts. 
When you make a purchase from a small business someone (ME) does a happy dance 
Makes a great gift
  Fast Shipping