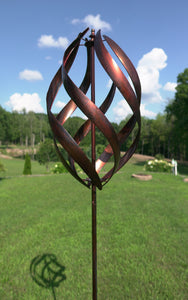 This heavy-duty piece of garden art will look great in any backyard or business.  Metal copper blades that spin as one in the wind.  Stratus is the best selling kinetic wind spinner we carry.  Spring 2022, Stratus will also be available in Red and Blue.  

There are 4 prongs on the bottom of the stake to keep it secure and upright.  Metallic automotive paint is used to ensure no flaking or peeling of paint.  There is also a UV protective coating to prevent fading.  However, I do recommend using something like Rust Oleum 2X at least once a year.
Check out our entire collection of kinetic art for the garden today!
Easy to assemble.  We also have a video on YouTube or Facebook with instructions and trouble shooting ideas.
To see this spinner click on the link here that will show you a video

Dimensions: 19" wide 19" Blades
90" tall
24.5" wide
When you buy from a small business, an actual person does a happy dance! (ME)
This may be sent UPS ground. If you have a PO box, I need a street address as well.  Free Shipping Continental USA only
Stratus spinners are our BEST SELLERs.  The wind spinner is painted with automotive paint that does not fade and peel like many others...Seriously, this is a great deal and an amazing spinner
This spinner can take strong winds. We test these at our store. They are outside all summer long. People come back for more because they are so well made.
Dimensions:  90" tall  (12" of this will be the stakes going into the ground)

Metal construction

Some assembly required

Great for any garden or patio area

Garden Art

Wind Sculpture