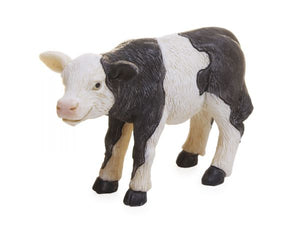 Any miniature barn and farm yard needs this guy.  Mini cow figurine with metal pick to stand upright
 The calf has a metal pick on the bottom. Used to insert the calf into the ground or other material.


Dimensions (approximately): Approx. Standing - 2" H x 3" W x 1" D, Metal Pick - 1 1/16" L

This cow ornament for gardens can be used for indoor or outdoor displays.

Material:  Resin
Item Number:  MG89