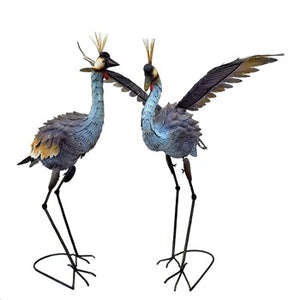 This  Dancing Crane Sculptures Set is a symbol of happiness and eternal youth. These crane sculptures make a wonderful addition to any home or garden! Shop our best selection of Garden Statues. Red Shed Garden and Gifts, quite possibly the coolest store ever!
Details
 Indoor/Outdoor
Powder coated iron
Weather & rust resistant
Hand painted for a realistic finish
Attention to textures and details
Freestanding (includes iron stakes for added support)
Product Dimensions: Wings Up: 38.25"X23.25"X41"H.; Wings Down: 23"X10"X45.5"H.
We encourage our customers to apply a clear protective overspray (such as Rustoleum) to provide added protection against possible fading/discoloration every 6 months or so
Continental USA only for free shipping