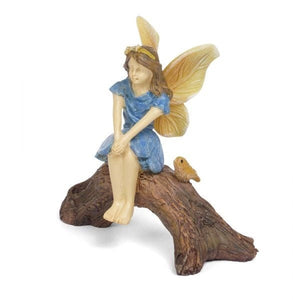 This miniature figurine is perfect for a fairy garden or a dollhouse.  A sweet girl fairy sits on an arched log daydreaming with a tiny bird to keep her company. The mini fairy has long brown hair with a yellow ribbon and wears a sweet turquoise-blue dress. The log features realistic bark texture.
 3" High x 3 1/4" Wide x 2" Deep
Can be used for indoor or outdoor displays. Perfect for outdoor display in a fairy garden or your landscaping. We can help you create your own fairy garden.
 Ships FAST in protective packaging
 When you make a purchase from a small business someone (ME) does a happy dance
 Makes a great gift. We have the largest selection of Eclectic Garden gifts.