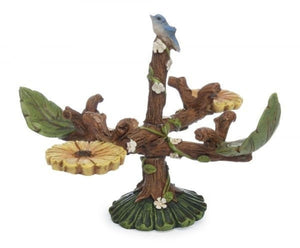 Resin fairy merry go round, perfect for fairy gardens.Spins with a push from a finger.Stake on bottom attaches to ground. 2-pieceA little bluebird perched atop this movable merry-go-round is calling out to all fairies to come join in a joyful playtime.5.5'' W
Articulated branches Perfect for outdoor display in a fairy garden or your landscaping. We can help you create your own fairy garden.
Ships FAST in protective packaging
 Can be used for indoor or outdoor displays.
 When you make a purchase from a small business someone (ME) does a happy dance
 Makes a great gift. We have the largest selection of Eclectic Garden gifts.