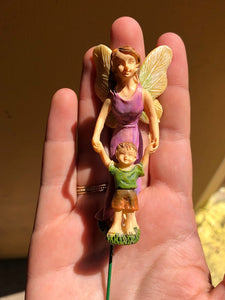 Mother fairy wearing a pink dress teaching her son how to take his first steps.  He has a green shirt on.  Made of Resin, this piece is a great addition to your fairy garden. Stands with a short stake into the ground.
Indoor/Outdoor use.

Dimensions (approximately): 3 1/2" H x 1 3/4" W x 2 3/4" D
Check out the 100's of fairy garden accessories we have for sale in our collection.