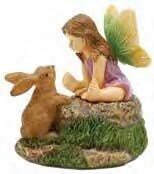 These two are best buddies and are sharing their plans for the day. Little girl fairy wearing a pink dress sitting on a rock talking to her new buddy, a rabbit. A great addition to any fairy garden.
 Dimensions (approximately): 3 1/2" H x 1 3/4" W x 2 3/4" D
 Can be used for indoor or outdoor displays.