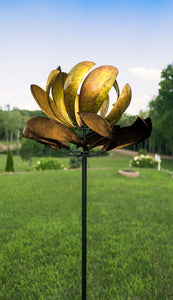 Are you on a garden tour this year? You need the wind spinner for your garden. It truly is a piece of garden art you will enjoy year after year.   Free Shipping Continental USA
This Golden and copper wind spinner is roughly 7 feet tall and would make a beautiful piece of garden art or decoration.  
Here is a link to watch a video of this spinner.  Golden Autumn Sierra
 It is named Sierra Autumn.  The beautiful tones of metallic metal, copper and Gold.
Description
This may be sent UPS ground. If you have a PO box, I need a street address as well.
Bright red with a solar light that changes colors.
BEST SELLER ... This guy is mesmerizing! Painted with automotive paint that does not fade and peel like many others...
Seriously, this is a great deal and an amazing spinner!
This kinetic spinner can take strong winds. We test these at our store. They are outside all summer long. People come back for more because that are so well made.
Metal construction
Some assembly required
Great for any garden or patio area