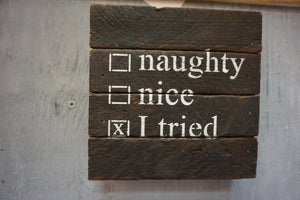 Well, I had to check I tried.  Denying I was naughty but sure don't get to check the box that I was nice. 6" wooden sign to decorate for Christmas.
When you buy from a small business, an actual person does a happy dance!
This is made by a Wisconsin Company, Made in USA...Second Nature by Hand creates quality, one-of-a-kind products with reclaimed wood. 
Product Dimensions:
 6" X 6"