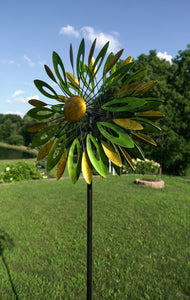 Amazing Outdoor Wind Spinner that adds whimsy and charm to your garden spaces.  Bright Green and Gold blades that spin in opposite directions when the wind catches them.  The top also turns with the direction of the wind for constant movement.  Free Shipping.  Meadow Brook Gold is the name of this spinner.
Ships free in Continental USA
To watch a video of this spinning, Click on this link.. Meadowbrook Gold Spinner
Powder-coated with automotive paint that does not fade and peel like many others, this metal construction is set up to stay bright through all seasons. 

If you leave it out over winter, make sure there is no water access to inside the pole.

This spinner can take strong winds, and we test them all summer at our store. Repeat spinner customers are happy with this product. 

Dimensions: Approx. 6 foot tall (72")
Metal Construction with some assembly required

This may ship UPS or FedEx Ground so I need your street address if you have a PO Box.

**SHIPS FREE CONTINENTAL US ONLY!