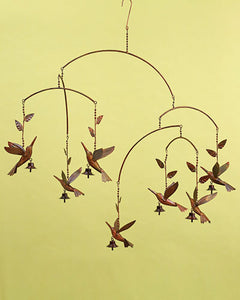 This hummingbird mobile is 37" long x 6.5 " wide x 21"deep.  Beautiful dancing Hummingbirds made of Flamed Steel  that make it look like they are made of copper.
Any Hummingbird enthusiasts will be happy to add this unique piece of garden art to their backyard or front porch.  
Each is a unique work of art and will vary slightly.  Perfectly imperfect.   We have the largest selection of Eclectic Garden gifts. 
When you make a purchase from a small business someone (ME) does a happy dance 
This may be shipped FedEx Ground so I need your street address if you have a PO Box