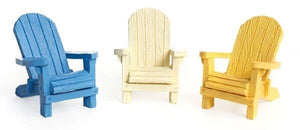 Here is a super cute addition to any fairy garden! A wood look adirondack chair that comes in your choice of three soft colors. This chair would look good in a backyard, woodsy or camping scene. This could also be used in a terrarium for an extra special accent. Give your fairies a place to sit and maybe add a firepit to put with this, which is also sold in our store.
Dimensions (approximately): 2.5" tall x 2.5" long x 2.25" wide
Can be used for indoor or outdoor displays.