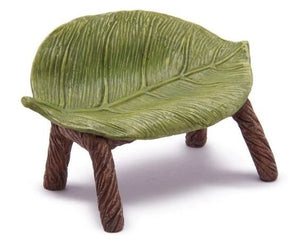 If your little fairies are needing a relaxing place to sit down, this Leaf Bench will do the trick. It's adorable even when not in use. It a perfect addition to your fairy garden.
 Approximate Measurements: 3" x 1.75" high x 1.5" deep
Can be used for indoor or outdoor displays. Perfect for outdoor display in a fairy garden or your landscaping. We can help you create your own fairy garden.
 Ships FAST in protective packaging
 When you make a purchase from a small business someone (ME) does a happy dance
Makes a great gift. We have the largest selection of Eclectic Garden gifts.