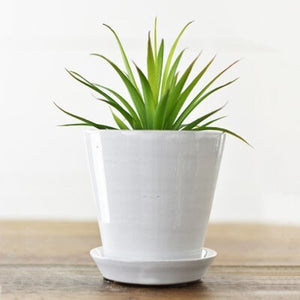 Minimalist white glazed ceramic planter with attached saucer. 4.25 X 4.25 X 3.6"
Drainage hole on the bottom of the saucer.
White smooth planter with saucer.
These are beautiful heavy duty ceramic planters.
No plants included
When you make a purchase from a small business someone (ME) does a happy dance
This will be shipped UPS or FedEx Ground so I need your street address so please include PO Box Fast Shipping
Makes a great gift. We have the largest selection of Eclectic Garden gifts.