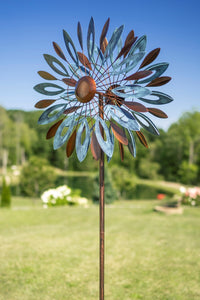 Winslow, a copper and blue spinner for your garden. Mesmerizing as the blades spin in two different directions.  A wonderful piece of kinetic garden art.
Here is a video of it in motion.  Windslow Garden Spinner
This kinetic wind spinner would be a great addition to your garden decor.  This copper and blue wind sculpture would also make a great gift for someone who loves their garden as much as we love ours.
Details
When you buy from a small business, an actual person does a happy dance! (ME)

This may be sent UPS ground. If you have a PO box, I need a street address as well.

BEST SELLER 

Painted with automotive paint that does not fade and peel like many others...

Seriously, this is a great deal and an amazing spinner!

The blades run in two different directions 

This spinner can take strong winds. We test these at our store. They are outside all summer long. People come back for more because they are so well made.

Dimensions:  6 feet tall 24" wide

Metal construction

Some assembly required

Great for any garden or patio area