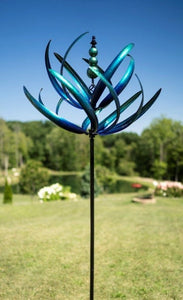 Blue Spring Reeds Wind Spinner--Wind Sculpture. Very nice! One of our best sellers!
Spins like the red one in the video.
Painted with automotive paint that does not fade and peel like many others...
This spinner can take strong winds. We test these at our store. They are outside all summer long. People come back for more because that are so well made.
Dimensions: 87" tall 27" wide
Metal construction Some assembly required
Great for any garden or patio area
*We recommend using a clear overspray (such as Rust-Oleum 2X) at least once a year for added protection against possible fading/discoloration
Because these are oversized packages, we do NOT offer gift wrapping on any of the spinners. Sorry for any inconvenience.