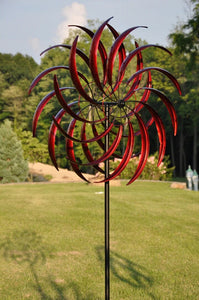 This amazing Large Red Kinetic Wind Spinner adds a bit of drama to any yard or garden. The flowing movement of this style will create a sense of serenity and peace.
Two set of blades, 30" in diameter. The blades spin in opposite directions. The top turns with the wind.
Powder coated with automotive paint that does not fade and peel like many others, this spinner can take strong winds and is tested all summer in our gardens. Our repeat spinner buyers are pleased with this product.
Dimensions: Dimensions 30"w x 78"h
4 prongs at the bottom of the pole to secure it in the ground. 
This may be shipped FedEx Ground so I need your street address if you have a PO Box Because these are oversized packages, we do NOT offer gift wrapping on any of the spinners. Sorry for any inconvenience.

 Great for any garden or patio area
*We recommend using a clear overspray (such as Rust-Oleum 2X) at least once a year for added protection against possible fading/discoloration