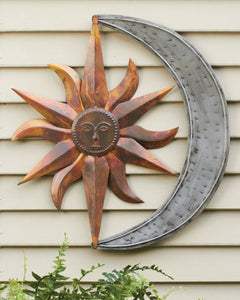 This celestial 17" X 15.5"   Sun and Moon Indoor/Outdoor Metal Wall Art.
These two heavenly bodies are made from steel, this wall art features a sun with face in a flamed copper finish, beside it is its opposite, the slender crescent moon in antique silver. This beautiful piece is powder coated and suitable for outdoor year-round use.
Each is a unique work of art and will vary slightly. Perfectly imperfect  We have the largest selection of Eclectic Garden gifts. 
When you make a purchase from a small business someone (ME) does a happy dance 
Makes a great gift
PLEASE NOTE: To help retain the original finish of this product, we recommend periodic application of a sealer such as clear Polyurethane if it will be left outside.
This may be shipped FedEx Ground so I need your street address if you have a PO Box  Fast Shipping