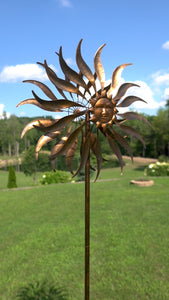 Watch while the breeze sends the rotors into a whirlwind of spin for an amazing display of art in motion. Truly a mesmerizing spectacle to behold!
Mount this amazing copper metal spinner anywhere in your landscape: garden, front or back yard, flower bed, along a pathway. The matching brushed copper post has a three-prong stake for secure installation.
Painted with automotive paint that does not fade and peel like many others...
I do not recommend keeping out over the winter months though.

This spinner can take strong winds. We test these at our store. They are outside all summer long. People come back for more because that are so
well made.

This will likely be shipped via UPS or FedEx Ground. If you have a PO box, I need a street address as well.

Dimensions:
89.5'' H x 19'' W x 19'' D

Metal construction
Powder Coated with Automotive paint
Some assembly required

Continental USA only for free shipping

When you buy from a small business, an actual person does a happy dance! (ME)