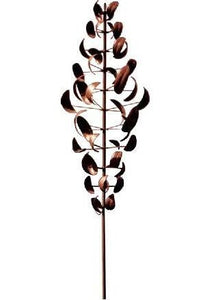 This stunning 120" Tall Kinetic Wind Spinner adds a huge amount of drama to any yard or garden. The flowing movement of this Copper Kinetic Spinner  will create a sense of serenity and peace.
Here is a video of the piece in motion.  Tall Copper Wind Spinner

Powder coated  with automotive paint that does not fade and peel like many others...

If it stays out for the winter, make sure there is no water in to pole.

This spinner can take strong winds. We test these at our store. They are outside all summer long. People come back for more because that are so well made
 Dimensions  120"

In-store pick up only of  if you are willing to make the LTL delivery arrangements on your end.

Great for any garden or patio area