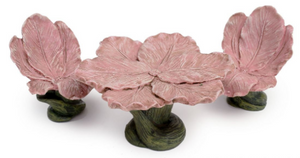 Miniature Pink flower picnic Table made of flower petals with benches. Set this outside in your fairy garden playground with the merry-go-round or Spiral Slide playground equipment for the forest friends and other mystical creatures that join your miniature playground.

Dimensions (approximately): Table 1.5" tall Chairs 2" tall

Material: Resin
Use: Indoor/Outdoor

Can be used for indoor or outdoor displays.