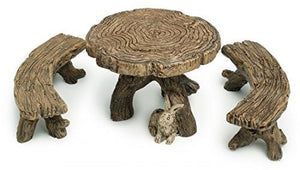 Provide the fairies with somewhere to rest with this fairy garden picnic table. This miniature wooden picnic table comes with two benches to put on each side.  Maybe create a farm scene and have a picnic with the local farm animals.  Check out our collection of forest, farm and other animals for sale online.
Super cute round fairy garden picnic table with 2 benches.  Check out the sweet bunny under the table.  Lots of detail.

Dimensions (approximately): Table 1.5" tall Benches roughly 1.75" long
Fairy is not included

This miniature wooden picnic table can be used for indoor or outdoor displays.