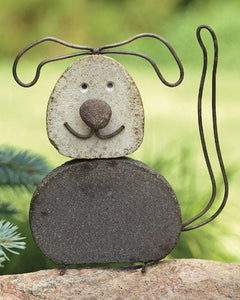 Here is an adorable Stone and Metal Dog looking for it's Fur-ever home! Adopt yours today! this little dog would look cute placed amongst your plants, indoors or outdoors, or even hanging out on a window ledge.
If you're looking for a fun way to decorate your front entry way or garden, this little kitty is a great place to begin
Approximate Dimensions: 9.5" tall x 7" wide x 1.25" deep
Each is a unique work of art and will vary slightly. Perfectly imperfect
When you make a purchase from a small business someone (ME) does a happy dance
Makes a great gift
PLEASE NOTE: To help retain the original finish of this product, we recommend periodic application of a sealer such as clear Polyurethane if it will be left outside.
This may be shipped FedEx Ground so I need your street address so please include PO Box Fast Shipping