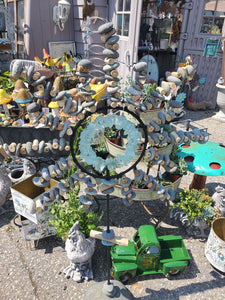 This is a large garden stake that looks like a burst of sunshine!  Best selling river rock statue that we carry.  Stones and driftwood is what is used to make this beautiful piece of garden art.
Local pick-up only unless you want to make the LTL arrangements on your end.  
Each is a unique work of art and will vary slightly.  Perfectly imperfect   We have the largest selection of Eclectic Garden gifts. 
When you make a purchase from a small business someone (ME) does a happy dance 
Makes a great gift

PLEASE NOTE: To help retain the original finish of this product, we recommend periodic application of a sealer such as clear Polyurethane if it will be left outside.