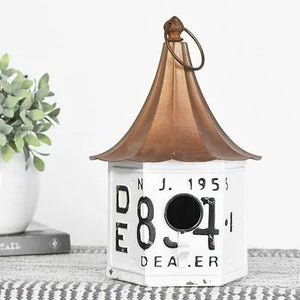 Here is a unique and fun birdhouse. It has a stylish copper top with an attached ring hanger. You could even hang this from a shepherd's hook. The main part of the birdhouse is styled to look like a replica of a car dealer's license plate. It's unique and vintage style is sure to add some charm wherever it is placed. The hole opening is approximately 1.5" diameter. There is no plug for cleaning out. But the hole is ample enough to make for easy cleaning.
Approximate Dimensions 7.5 X 7.5 X 13
Each is a unique work of art and will vary slightly. We have the largest selection of Eclectic Garden gifts.
When you make a purchase from a small business someone (ME) does a happy dance
Makes a great gift
PLEASE NOTE: To help retain the original finish of this product, we recommend periodic application of a sealer such as clear Polyurethane if it will be left outside.
This will be shipped FedEx Ground so I need your street address if you have a PO Box