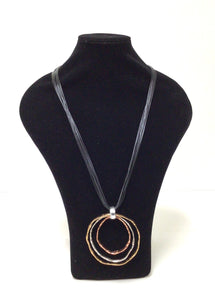 Sometimes less is best. This modern-styled necklace is perfect in its elegant simplicity. The metal pendant is large and made up of 3 simple open circles  The pendant hangs on 8 braided cords and there is a clasp that can add approximately 2.0" if needed, however it can easily slip over the head. 

16" black cord

4"W x 3.25" H outside largest circle (Large circle is goldtone, med circle is silvertone and small circle is coppertone)

Measurements are approximate

Nickel-free

When you purchase from a small business someone (me) does a happy dance! Thank you for your business.
This will be shipped FedEx Ground if you have a PO Box please include your street address.